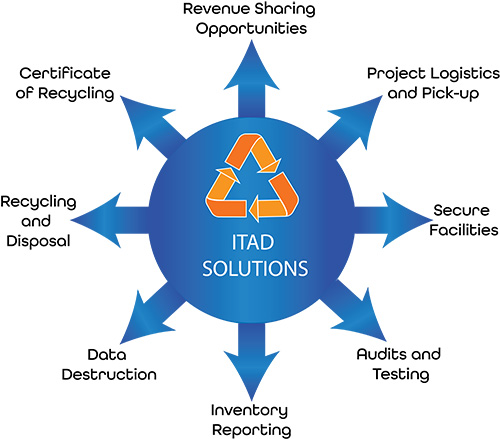 Our team of experienced IT professionals handles the entire ITAD process from beginning to end. We pick up your hardware, audit all components for maximum value, renew or recycle and deliver the refurbished equipment back to you.
Pick up
Send us a list of your surplus hardware and we'll arrange for the pickup of your equipment and its transport to our secure facility.
Audit
Our specialists appraise every component of your hardware to assess its value and give you a detailed report so you know precisely what everything is worth.
Refurbishment
We wipe all of your data to NIST standards and perform a factory reset. We reuse, remarket, redeploy, or recycle every component so you will receive maximum value. Finally, we clean and test your equipment and prepare it for delivery.
Renewal
Custom skins, installed company images, component upgrades, restoration, and retesting bring new life to your equipment. As a result all our customers receive an "open box" experience with their renewed hardware.

Delivery
We send the renewed equipment to our shipping department where we securely pack it and send it out for "refurbished" use.
ITAD SOLUTIONS
Our ITAD Solutions reflect Enlivened Tech's commitment to extending sustainability through the life your computer products. We renew, reuse, and redeploy every piece of equipment, until finally recycling and securely destroying components that can no longer be used. We do not want our prints in a landfill.